Adjustable Laptop Side Mount Clip
$29.99
👉 Increase Productivity Using The 📱 Mobile Screen Support Holder Adjustable Laptop Side Mount Clip!
This Magnetic Side-Mount Clip can clamp tablet or cell phone to laptop to get multi-display computing experience, extend your screen, increase your productivity and multitasking at the home, office or on the way.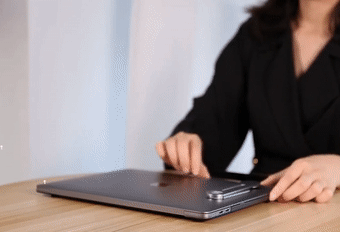 ✅ Work Efficiently
✅ Flexible Adjustment
✅ Double Screen Interactive
✅ Golden Ratio Perspective
✅ Reduce Cervical Spine Fatigue
✅ Portable & Wide Compatibility
👉 Multiple Monitor Display - Adsorb the mobile phone next to the laptop or display, enjoying a dual-screen. 
👉 Does Not Obstruct The Screen - The study, work, movies, games, live broadcasts can all be carried out simultaneously.
👉 Flexible Adjustment Of Different Angles - You can adjust the comfortable angle according to your needs. 
👉 Support Charging - Reserved charging port, support charging while using.
👉 Portable For Travelling - The dual monitor mount is small, solid and lightweight shape makes it easy to take away into your bag during traveller, analyst, and others.  
👉 Easy Use - It is very simple to install, carry and use. A protective sponge is attached to the magnetic contact surface to effectively protect your equipment.
High 
👉 Quality - Good materials decide everything, make digital life better. Complimentary two ferrite magnets(for sticking the back of the phone). 
👉 Compatibility - Universal compatible with iPhone and Android phones and iPad mini from 4-8 inches.
Product Specifications:
Material: Aluminum alloy
Color: Silver Gray/Black/Rose gold
Adjustable Laptop Side Mount Clip
Description

👉 Increase Productivity Using The 📱 Mobile Screen Support Holder Adjustable Laptop Side Mount Clip!

This Magnetic Side-Mount Clip can clamp tablet or cell phone to laptop to get multi-display computing experience, extend your screen, increase your productivity and multitasking at the home, office or on the way.




 

✅ Work Efficiently
✅ Flexible Adjustment
✅ Double Screen Interactive
✅ Golden Ratio Perspective
✅ Reduce Cervical Spine Fatigue
✅ Portable & Wide Compatibility




 

👉 Multiple Monitor Display - Adsorb the mobile phone next to the laptop or display, enjoying a dual-screen. 

👉 Does Not Obstruct The Screen - The study, work, movies, games, live broadcasts can all be carried out simultaneously.







👉 Flexible Adjustment Of Different Angles - You can adjust the comfortable angle according to your needs. 

👉 Support Charging - Reserved charging port, support charging while using.







👉 Portable For Travelling - The dual monitor mount is small, solid and lightweight shape makes it easy to take away into your bag during traveller, analyst, and others.  

👉 Easy Use - It is very simple to install, carry and use. A protective sponge is attached to the magnetic contact surface to effectively protect your equipment.




High 

👉 Quality - Good materials decide everything, make digital life better. Complimentary two ferrite magnets(for sticking the back of the phone). 

👉 Compatibility - Universal compatible with iPhone and Android phones and iPad mini from 4-8 inches.










Product Specifications:

Material: Aluminum alloy
Color: Silver Gray/Black/Rose gold

Reviews