Christy's APP A.I. Controlled Christmas String Lights
$126.99
Christmas Pre-Sale: Now 50% OFF!
Only While The Supply Lasts!
The best app controlled Christmas lights for the holidays!
Christmas lights once required someone to crawl under the tree to plug and unplug them. Not anymore.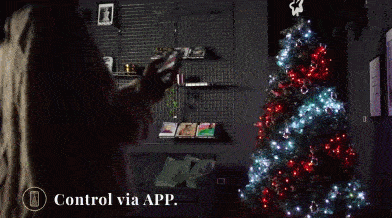 We may not have flying cars, but every once in awhile smartphones can make it feel like we're living in the future. Christmas lights once required someone to crawl under the tree to plug and unplug them. Today, WiFi-enabled Christy's APP A.I. Controlled Christmas String Lights allow users to do everything from turning them on to changing lights' color, or even patter!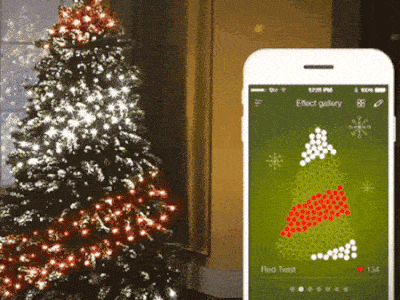 Each LED bulb on the u

nique Christmas light string is a smart bulb that is fully programmable
You either select pre-made light designs and animations from the app or even program your own design to match your favorite sports teams colors, and unique animation, and more
App Controlled: All lights can be remotely controlled by the application available on the App (iOS)
Quick Setup: The setup is really easy and takes just a moment thanks to the Bluetooth pairing. Wi-Fi Connection. The lights can be setup with your local home/office Wi-Fi so that you don't need to establish a connection every time you use the light
Weatherproof: The products have IP44 protection which makes them perfect for both indoor and outdoor use
Our Amazyble 5 Point Guarantee
Free shipping worldwide - No minimum order limit
Tracking Number For Every Order
Guaranteed Safe Payments via Paypal, Credit Card, ApplePay, GooglePay, AmazonPay
Real People on our 24/7 customer support 
100% money back guarantee
All delivery is insured and usually takes between 2-7 business days for the USA. For UK, Canada & Australia it may take up to 12 business days. For Europe and the rest of the world it can take up to 18 business days. Orders are sent within 1-3 business days after receiving a clear payment.
Christy's APP A.I. Controlled Christmas String Lights
Description




Christmas Pre-Sale: Now 50% OFF!

Only While The Supply Lasts!

The best app controlled Christmas lights for the holidays!

Christmas lights once required someone to crawl under the tree to plug and unplug them. Not anymore.

We may not have flying cars, but every once in awhile smartphones can make it feel like we're living in the future. Christmas lights once required someone to crawl under the tree to plug and unplug them. Today, WiFi-enabled Christy's APP A.I. Controlled Christmas String Lights allow users to do everything from turning them on to changing lights' color, or even patter! 

Each LED bulb on the u

nique Christmas light string is a smart bulb that is fully programmable

You either select pre-made light designs and animations from the app or even program your own design to match your favorite sports teams colors, and unique animation, and more

App Controlled: All lights can be remotely controlled by the application available on the App (iOS)

Quick Setup: The setup is really easy and takes just a moment thanks to the Bluetooth pairing. Wi-Fi Connection. The lights can be setup with your local home/office Wi-Fi so that you don't need to establish a connection every time you use the light

Weatherproof: The products have IP44 protection which makes them perfect for both indoor and outdoor use

Our Amazyble 5 Point Guarantee

Free shipping worldwide - No minimum order limit
Tracking Number For Every Order
Guaranteed Safe Payments via Paypal, Credit Card, ApplePay, GooglePay, AmazonPay
Real People on our 24/7 customer support 
100% money back guarantee

All delivery is insured and usually takes between 2-7 business days for the USA. For UK, Canada & Australia it may take up to 12 business days. For Europe and the rest of the world it can take up to 18 business days. Orders are sent within 1-3 business days after receiving a clear payment.

Reviews