LED Orchid Branch Light
$10.95
 ADD A

ROMANTIC GLOW

TO YOUR HOME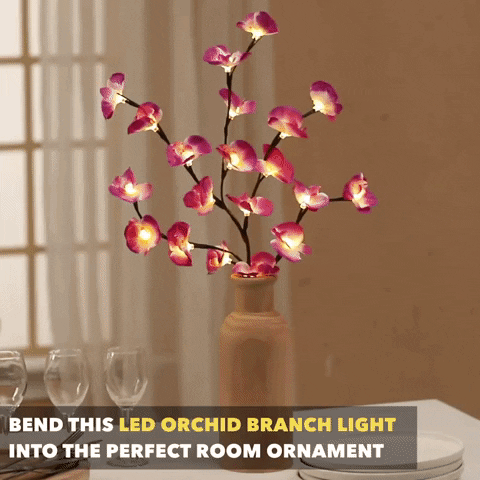 Any home will look great with the addition of these flowers; brighten up a neutral or plain room without overdoing it!

FEATURES:
? Premium Quality - Beautiful artificial orchid lights are made of high-quality fabric & ABS material, can withstand all kinds of weather. 
? Long Time Working - The lights made a total of 20 LED lights, made from strong iron wire and acrylic, each LED has a delicate shape giving the effect of a small flower tree while lighting. The desk lamp is perfect for enhancing your desk, nightstand, and home.
? Widely Used - Perfectly decorate your Home, Bedroom, Living room, Balcony, Balcony Window, Table, Office room, Children's room, Restaurant, Porch, Shelf, Christmas, New Year, Birthday Parties, Wedding.
? Adjustable Branch - Branches are bendable, you can adjust them, make them twist, or pull them up or down to create your own natural look. Enjoy these Amazing Branch Lights!

SPECIFICATIONS:
Material: Iron wire
Color: Pink
Length: 77cm
Voltage: 3V
Waterproof Grade: IP44
Battery-powered: 2X AA Battery (not included)
LED Orchid Branch Light
Description

 ADD A

ROMANTIC GLOW

TO YOUR HOME

Any home will look great with the addition of these flowers; brighten up a neutral or plain room without overdoing it!


FEATURES:

? Premium Quality - Beautiful artificial orchid lights are made of high-quality fabric & ABS material, can withstand all kinds of weather. 

? Long Time Working - The lights made a total of 20 LED lights, made from strong iron wire and acrylic, each LED has a delicate shape giving the effect of a small flower tree while lighting. The desk lamp is perfect for enhancing your desk, nightstand, and home.

? Widely Used - Perfectly decorate your Home, Bedroom, Living room, Balcony, Balcony Window, Table, Office room, Children's room, Restaurant, Porch, Shelf, Christmas, New Year, Birthday Parties, Wedding.

? Adjustable Branch - Branches are bendable, you can adjust them, make them twist, or pull them up or down to create your own natural look. Enjoy these Amazing Branch Lights!

SPECIFICATIONS:

Material: Iron wire
Color: Pink
Length: 77cm
Voltage: 3V
Waterproof Grade: IP44
Battery-powered: 2X AA Battery (not included)




Reviews